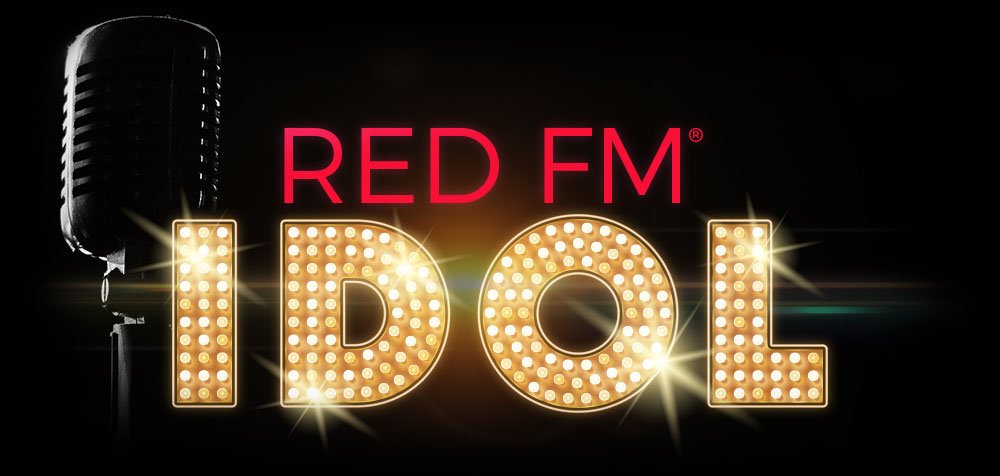 RED FM IDOL CALGARY 2019
RED FM's Annual Singing Talent Contest is BACK
& it's BIGGER than ever!
We are happy to announce that RED FM IDOL Calgary 2019 will take place on Friday, August 30th at the Bella Concert Hall, Calgary.
1st place (RED FM IDOL 2019)
2nd place: $15,000
3rd place: $5,000
The remaining 7 finalists who participate live in-person at the Grand finale at the Bella
Concert Hall, Calgary on August 30th, 2019 will get a prize of $2500 each.
All 10 finalists who participate live in-person will also get a trophy.
Round 1: Video Submissions via WhatsApp
To enter the talent contest, you will need to send a video of yourself singing a solo in either Hindi, Punjabi or Urdu to the RED FM WhatsApp number +1.403-966-0967.
Submissions will be accepted from August 5th until August 14th.
For your submission video, you must sing a solo in either Hindi, Punjabi or Urdu for at
least 60 seconds, but no more than 90 seconds.
Your song can be a cappella (without music) or with an instrument.
Only the short-listed contestants will be notified via phone or WhatsApp of your results.
Eligibility: Who can send in a video submission?
Must be 19 years of age or older.
Your submission must be in Hindi, Punjabi or Urdu language.
Must be a Canadian Citizen or a Permanent Resident (PR).
Must have Canadian Government issued Photo ID.
Round 2: On-Air Round
The on-air round will broadcast live on 106.7 RED FM Calgary CKYR-FM from Monday,
August 19th to Thursday, August 22nd, 2019.
RED FM will only contact and invite Short-listed contestants to participate in the on-air round.
If you are in Calgary, you will be expected to participate live in our studio.
If you are from Vancouver or Toronto, you will need to participate live in the RED FM Vancouver or Toronto studios.
If you live in another city or area in Canada, you will be permitted to compete in the on-air round via phone or online.  This will be determined prior to the on-air round with a RED FM representative. RED FM is not responsible for any technical issues that may arise if participating remotely.
RED FM Studios are located as mentioned below:
RED FM Calgary
#420 4774 Westwinds Drive,
NE Calgary
RED FM Vancouver
#201 8383A 128 Street
Surrey
RED FM Toronto
7 Sun Pac Blvd
Brampton
Arrangement for each singer will be made independently.
If you are scheduled to sing inside one of the RED FM studios, you will need to be on time & available when scheduled to perform.
If you are performing from your home (not located in Calgary, Vancouver or Toronto), you must be connected with our on-air studios at the scheduled time.
Points will not be reduced during your online or phone performance if the audio quality is low.  We will do everything in our power to ensure that online & phone contestants have the best experience possible but will not be responsible for any technical issues that may occur.
If you are invited to the On-Air Round:
We will schedule you for a 1-hour window to compete within those dates;
You will be asked to sing 2 songs, 90 seconds long without any music and our judges will critique and grade you;
Prepare one additional song in case the judges ask for an alternative;
We would also need a list of your selected live songs, should you proceed to the next stage;
Only short-listed contestants qualifying for the Grand finale will be notified via phone or email of the results.
Round 3: Grand Finale Live Show (Bella Concert Hall)
Friday August 30th, 2019
Doors open at 6:30 PM, Show starts at 7 PM sharp
To qualify as a finalist, all short-listed contestants have to be personally present at rehearsals and at the live grand finale show in Calgary.
If a finalist is not able to attend the rehearsals and the grand finale, then RED FM will proceed to invite the next qualifying contestant as a finalist.
Accommodation expenses will be provided for Finalists who reside outside of Calgary.
10 finalists will be selected and invited to the grand finale show.
Finalists will be able to rehearse with the band in Calgary for 3 days prior to the final event and inside the theatre during the day on August 30th.
We will be sending information packs to the successful contestants, which will outline the process and schedule in full after the on-air round.
Band Rehearsals: Rehearsals dates & times will be posted soon
You will be asked to prepare 3 songs with the band.
You must rehearse a 2-minute song for the 1st round, a 2-minute song for the second round and a 3-minute song for the third round – please time your performance accordingly.
Grand Finale First Round:
In this round, all finalists will be required to sing for 2 minutes in front of the judging panel.
The judges will decide which 5 finalists will qualify for the next round.
Grand Finale Second Round:
5 finalists will be invited to perform their chosen second song. These songs also must be under 2 minutes.
Judges may give feedback and will then decide which 3 finalists make it to the final round.
Grand Finale Final Round:
Only 3 finalists will make it into the final round. All 3 singers will be expected to sing a song up to 3 minutes long.
Judges will give feedback after each performance.
After the final round, all 3 remaining finalists will return to the stage & the final results will be announced.  Second runner up, First runner up & The RED FM IDOL 2019.
Can I bring a musical instrument with me?
Video submission: Yes. Only if you can play it (an accompanist will not be allowed)
On-Air: No
Final Show: Yes (we will also provide a musical band)
*No additional marks will be awarded for playing an instrument.
Please note: Accommodation expenses will be provided for Finalists who reside outside of Calgary.
General Conditions
We reserve the right to exclude, in our sole and absolute discretion, any individual from any of the auditions for any reason including without limitation, violation of any portion of the rules, or tampering with the entry process or the audition process.
We also reserve the right to change the rules and procedures at any time. Being chosen to audition and/or compete at any level in the process does NOT ensure that you will be selected to continue to the next stage.
By entering the talent contest, each contestant gives and grants in perpetuity to RED FM, the irrevocable right, without limitation, to all now and hereafter existing common law, equitable, statutory and moral rights throughout the world (regardless of whether or not such rights are now known), in and to the contestant's picture, likeness, name, voice, biographical data and Prize information as well as all materials created by the contestant in connection with or arising from his/her participation in the Contest and/or his/her acceptance and/or use of the Prize (collectively, the "Promotional Materials") including, without limitation, the perpetual and unlimited right to reproduce any and all of the Promotional Materials, in any manner and medium whatsoever, whether now known or hereafter developed, including, without limitation, by broadcast, telecast or written material and the contestant further acknowledge and agree that he/she will not claim any title, right or interest in or to the Promotional Materials and further waive any right to any compensation related to the RED FM's use of the Promotional Materials in any way whatsoever.
By participating, contestants agree to be bound by these rules and the decisions of RED FM and the panel of judges, which shall be final and binding.
© 2019 South Asian Broadcasting Corporation Inc. RED FM® is a registered trade-mark of South Asian Broadcasting Corporation Inc.
Website by Bulwark